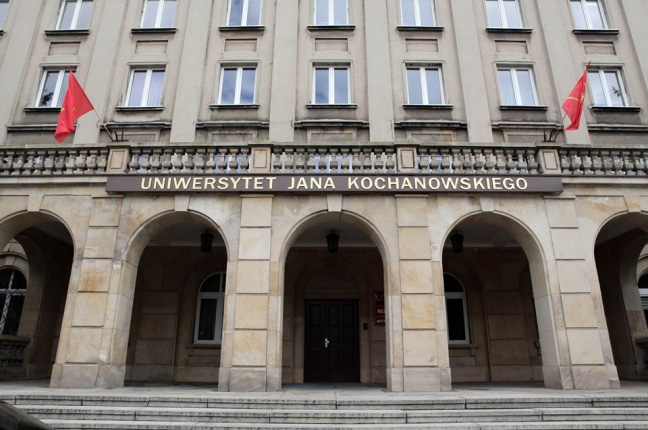 Jan Kochanowski University
Uniwersytet Jana Kochanowskiego
The origins of the university date back to 1969 year and are connected with the foundation of Kielce Academy of Teachers. In 1973 Pedagogical University was established and six years later Jan Kochanowski became its Patron. As the Świętokrzyska Academy of Education we entered into 21st century. New faculties and specializations were created, the first rights to both doctoral degrees and degrees of doctor habilitated appeared. In 2008 year, Jan Kochanowski University was founded. Three years later we fulfilled the requirements of classical universities.
Jan Kochanowski University has been established since 2011 and it will stay probably unchangeable for many years.
In the 21st century, after having joined European Union, our educational base has considerably evolved and expanded. At these days, we can undoubtedly say that we are one of the best-equipped universities in Poland thanks to the support of European Union's funds. During the last ten years, the university has gained about 330 million złotych. Modern buildings, lecture halls as well as state-of-the-art laboratories enable the students to feel comfortable whereas the teaching staff is provided with the opportunities to career development. At present, approximately 12,5 thousand people study at the university. It also provides workplaces for nearly 1 400 employees, including 860 university teachers. After having obtained the status of university, it has still been methodically developing and evolving. The range of new faculties is constantly expanded. They consider the needs of labour market which enable to gain the success not only on local level. The educational offer has become increasingly diverse. Students of Jan Kochanowski University may choose between 41 professional specializations. In 2015 the offer has been expanded by such departments as the Faculty of Law and the Faculty of Medicine. They have been changed into the Faculty of Law and Social Sciences as well as Collegium Medicum. The University obtains the right to confer doctoral degrees in eleven disciplines and degrees of doctor habilitated in three specializations.
Go to University website